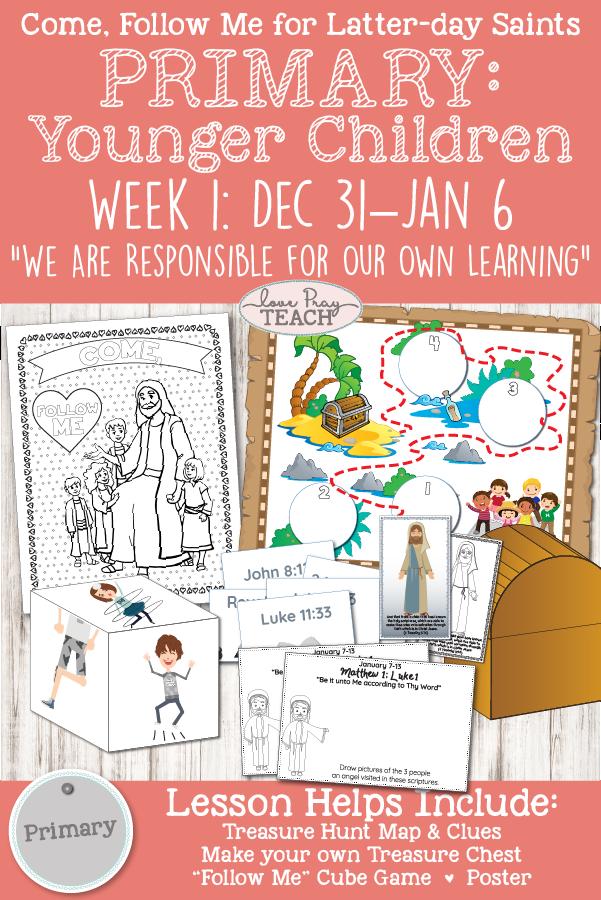 Come, Follow Me-For Primary: 2019 New Testament December 31
Description
Printable teaching packets for non-subscribers
This Lesson Includes
POSTER
FOLLOW ME Cube and Activity
TREASURE HUNT! Includes map, 4 scripture clues that will lead to spots in your classroom, blank clue cards if you'd like to go all over the church! Help you class know that the scriptures are a TREASURE and it is through them that we will find Jesus Christ!
TREASURE BOX and image of Christ
NEXT WEEK'S READING ASSIGNMENT CARDS hand these to the children or their parents to help them study the scriptures for next week's lesson. There is a place for them to draw or write down what they learned!
With the lesson time only 20 minutes, choose what works best for you and your class! We have provided a few different ideas, but you will only need to choose one or maybe two of them!
IMPORTANT:
Please add [email protected] to your email contacts. You will receive 2 emails once you have finished your purchase. The first one will be a receipt, the second email will contain your download link. Please email [email protected] if you have any problems getting your link.

THIS IS INCLUDED IN THE PRIMARY SUBSCRIPTION already - no need to purchase if you have a subscription. Save money and become a member! Click here for more info.