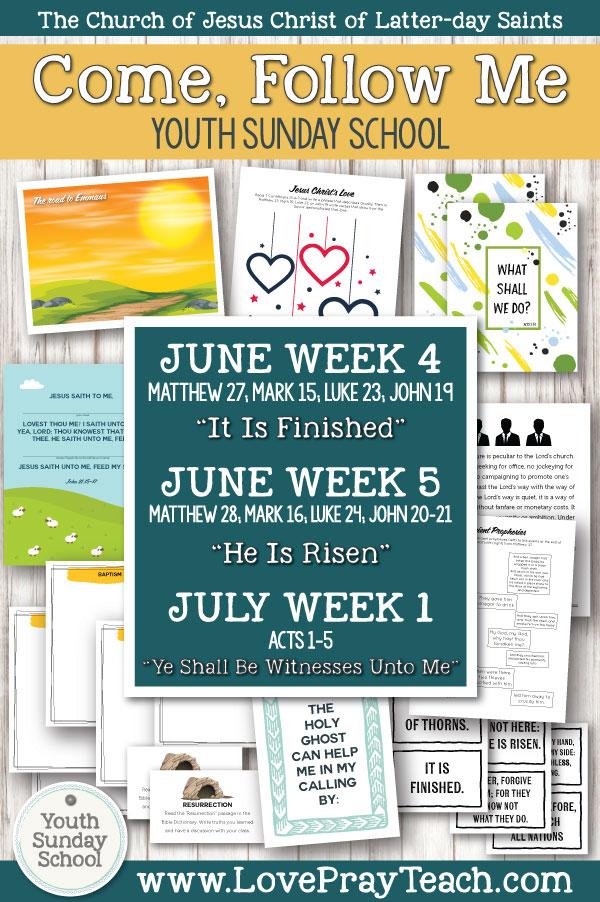 Youth Sunday School Come, Follow Me New Testament 2019 June 17
Description
Instant download for non-subscribers
This lesson includes:
Lesson outline for Youth Sunday School June 17–23 Matthew 27; Mark 15; Luke 23; John 19 "It Is Finished" AND June 24–30 Matthew 28; Mark 16; Luke 24; John 20–21 "He Is Risen" AND July 1–7 Acts 1–5 "Ye Shall Be Witnesses Unto Me"
Teacher prep worksheets
Scripture quote posters
Handouts
Scripture journal prompts
Board activities
Object lesson ideas
Visual Aids
Fun worksheets to help with your class discussion
plus much more!
All printables include color and black and white



IMPORTANT:
Please add [email protected] to your email contacts. You will receive 2 emails once you have finished your purchase. The first one will be a receipt, the second email will contain your download link. Please email us if you have any problems getting your link.
You can also sign up for a free membership. Make sure you are logged in when you order. Then click on "My Account" in the toolbar and click on "My Orders." You can download your purchases instantly!

THIS IS INCLUDED IN THE YOUTH SUNDAY SCHOOL SUBSCRIPTION already - no need to purchase if you have a subscription. Save money and become a member! Click here for more info.