2018 Mutual Theme Printable Packet "Peace in Christ"
|
author/source:
Megan Hanson
2018 Mutual Theme Printable Packet
"Peace in Christ"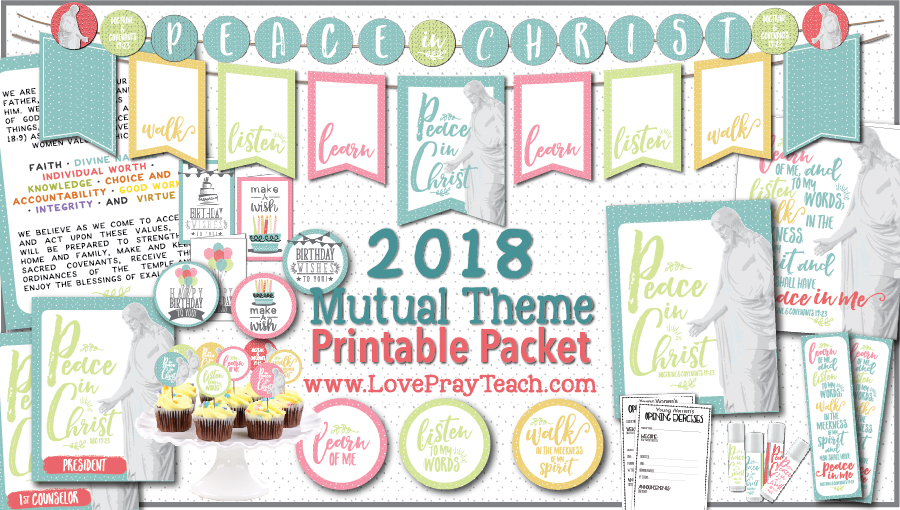 Have you heard yet what the 2018 Mutual Theme is going to be?! I was so excited when I read it:
Doctrine and Covenants 19:23: "Learn of me, and listen to my words; walk in the meekness of my Spirit, and you shall have peace in me" (emphasis added).
Isn't that such a beautiful scripture? To me, this scripture will help bring the basics of the gospel into the lives of our Youth. Speaking, learning, and teaching about Christ will increase testimonies. In a world of ever increasing noise, learning where true peace comes from will be a blessing in each of our lives.
Our printable packet contains everything you're going to need for the coming year! The colors I used are bright and fun! I have an advantage with having two teenage daughters! Everything I made for this packet was teenage approved!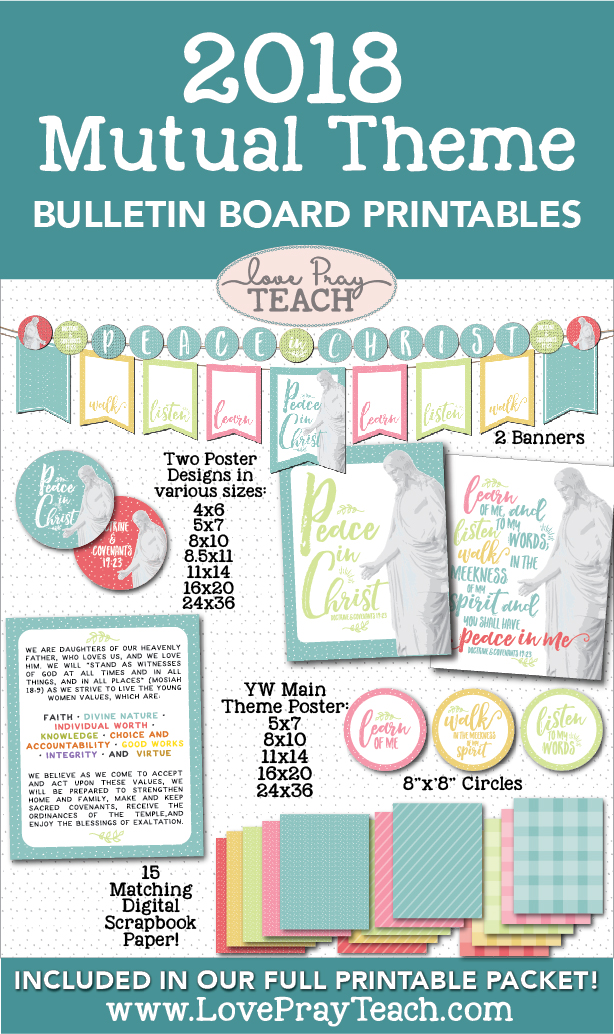 Our Bulletin Board packet includes:
2 Poster Designs! Use these to decorate your Young Women's room, give as gifts, use throughout the year for New Beginnings and Young Women in Excellence, and for craft projects! The packet includes the following sizes:

4x6
5x7
8x10
8.5x11
11x14
16x20
24x36

2 Banners! These banners will looks adorable in your Young Women's room! Or help your daughter remember the theme all year by hanging a banner in her bedroom!
Young Women Main Theme Posters! Hang this poster up so the incoming girls will know how to recite the YW Theme! Also includes smaller sizes to be used as gifts, cards, or decorations throughout the year.
5 8"x8" Circles to decorate your bulletin board!
15 Matching Digital Scrapbook Papers! Use these coordinating designs to help you decorate your room, create invitations, make cards, etc. The ideas are endless!
Bonus! Also included this year is a 16x20 poster of the full scripture in block lettering to use for Mutual night! My Dad (who is a Bishop) requested this poster this year because he likes his Youth to recite the theme in Opening Exercises for Mutual!
Binder Covers:
We have included binder covers for:
Young Women Presidency
Laurel Presidency
Mia Maid Presidency
Beehives
Blank Covers if you'd like to make a binder for every girl!
Also includes spine inserts!
Birthday/Gifts Printables Packet:
Our Birthday Packet this year is so cute! It includes:
3 Birthday Cards
3 - 4" Round Birthday Tags that would look adorable on any gift or bag of candy!
Bookmarks
Chapstick Stickers in 4 different colors
3" Cupcake Toppers and/or Stickers
Our Full Printable Packet includes EVERYTHING above! Or you can buy the individual Bulletin Board Packet; Binder Covers; and our Birthday Gift Printables packet
Looking for printables in Spanish? This year we have a packet in Spanish that includes: