The 2022 Youth Theme is "Trust in the Lord with all thine heart; and lean not unto thine own understanding. In all thy ways acknowledge him, and he shall direct thy paths." Proverbs 3:5-6 The Church of Jesus Christ of Latter-day Saints Newsroom
This scripture is favored by many throughout the world. As we study the Old Testament during 2022, your Young Women will be learning about some pretty incredible women in ancient times. We wanted to be sure to portray these strong women on our posters this year. The women on the posters represent several women from the Old Testament. You'll see Eve with the leaves in her hair, Esther with her crown, Sarah as the older woman, Rebekah wearing the white headdress, and Ruth with the light blue headdress. Our hope is that as the young women learn these amazing stories this year, they will use the examples of these stalwart and faithful women and know that they, too, can trust in the Lord as they face trials and make important decisions in their own lives.
What's Included:
We've included more than ever in this year's packet! We've listened to what you need and have tried to include everything we can to help make your callings a bit easier this year!
Binder's Packet:
This year's Binder Packet includes several new additionals from previous years. You will find pages that are useful for your adult presidency and pages specific for the Class Presidencies. As always, many things are editable in Adobe Reader so you can make it perfect for your organization!
Binder Covers
Spine Inserts
Binder Tabs
12 Month Calendar
2022 Teaching Schedule
2022 Come, Follow Me Reading Schedule and Bookmark
2022 Calendar at a Glance
Birthday List
Meeting Agenda
Class Directory
Leader Directory
Conducting Sheet
Budget Planner
Class Presidency Orientation page
2022 Looking Ahead page
2023 Looking Ahead page
Notes pages
Bulletin Board Packet:
Includes:
Banner in 3 sizes
Four "Trust in the Lord" Posters in several sizes:

4x6
5x7
8x8
8x10
8.5x11
11x14
11x17
16x20
24x36

Editable Board Headers so you can add what you need. For example: Birthdays, Announcements, Sign-up Sheets, etc.
Matching Patter Papers to help you decorate your board
8" and 4" decorative circles
Blank editable poster in several sizes. (The Church does not allow selling or giving away the YW Theme. We know that many are selling it, but the Church has not approved it. We have provided this blank matching poster for you to create your own if you'd like to. But if you're going to hang one up in your YW room, please get permission from your Bishop.)
Strive to Be - Help your Young Women remember their goals throughout the year by adding some cute embellishments to your board!

Board Strips: Social, Intellectual,
Scripture Posters in several sizes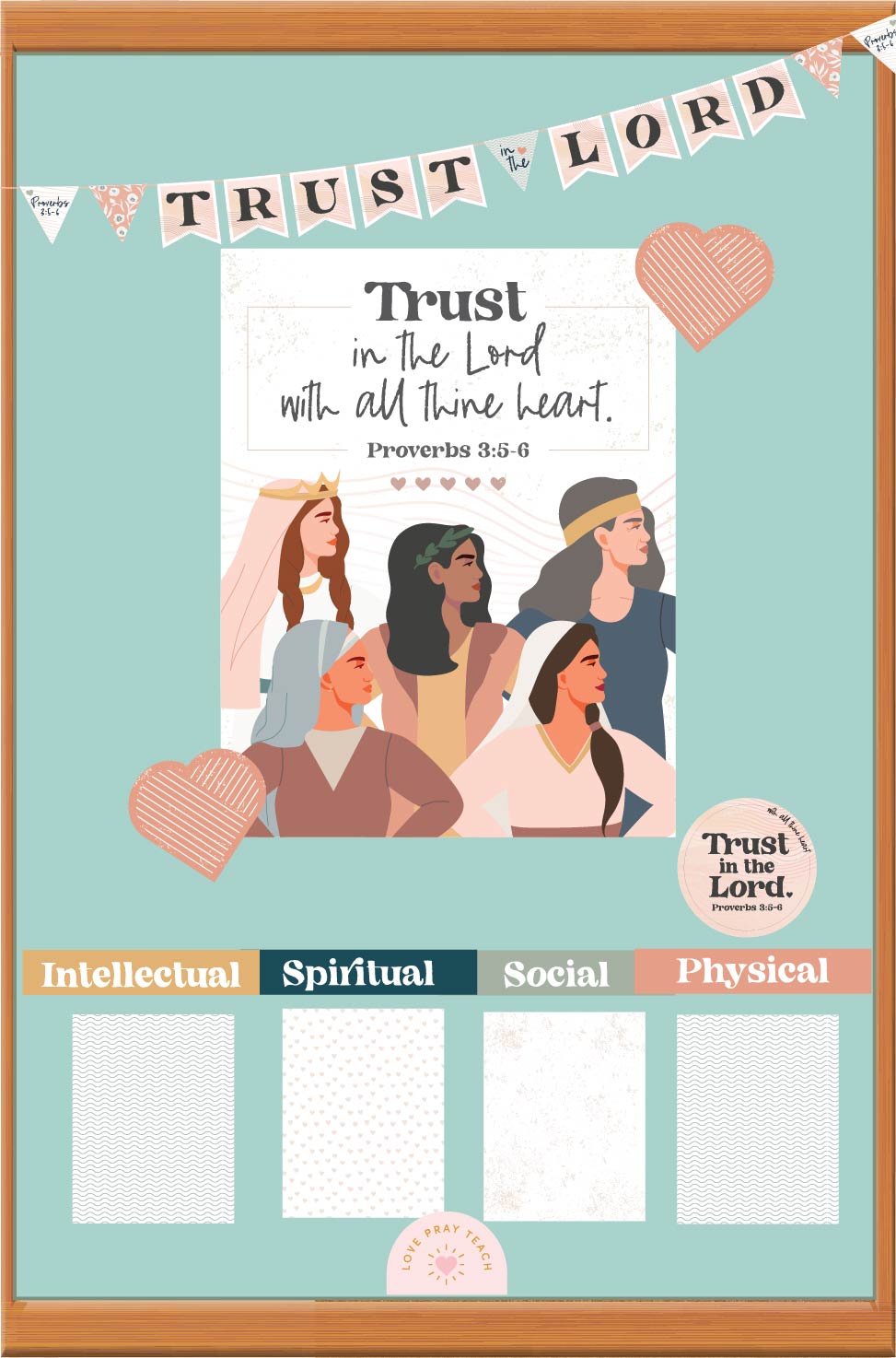 Birthday Packet:
We call this the Birthday Packet, but we've also included some "encouragement" cards you can use through the year!
Three birthday cards
Three 3" circle birthday cards
Bookmark
2" circles to make stickers, magnets, or cupcake toppers
Four small encouragement cards
"We Miss You" card
"Thinking of You" card
Events Packet:
Throughout the year, you may be holding some special events. We have included 3 different editable invitations you can use for any event! We have also included several things you can use that are Youth Themed related.
2022 Youth Theme Posters in several sizes (These are the same as the posters in the Bulletin Board Packet)
Editable Name Tents
2" Cupcake Toppers
Waterbottle wrappers
Matching pattern papers
Three 5x7 Editable Invitations
Banner in 3 sizes
If you like our packet, please share by pinning any of our collages to Pinterest or sharing this article on Facebook! We appreciate the support!
If you're not a subscriber, save money and purchase all 4 packets in one ULTIMATE PACKET!