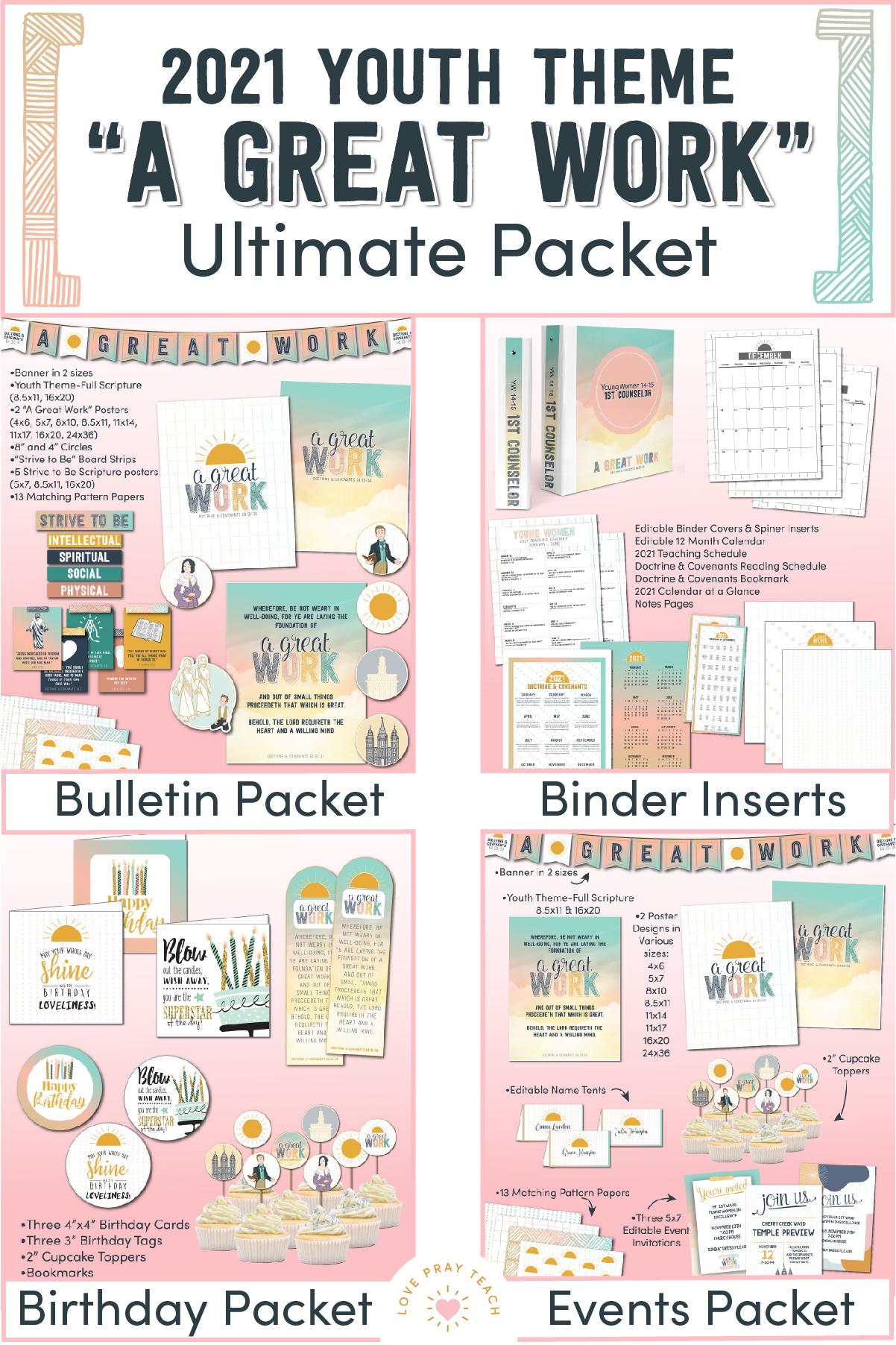 2021 Youth Theme "A Great Work" Doctrine & Covenants 64:33-34: Young Women ULTIMATE BUNDLE Packet
Description
Instant Download
The church has announced the Youth Theme for 2021!
"Wherefore, be not weary in well-doing, for ye are laying the foundation of a great work. And out of small things proceedeth that which is great. Behold, the Lord requireth the heart and a willing mind" (Doctrine and Covenants 64:33-34)
Read more about it by clicking here.
As I was trying to think of how to design this year's theme packet, I really struggled with how to convey such an important message in an image that the Young Women can relate to. When we think of "a great work" from the Doctrine and Covenants, our minds instantly go to Joseph Smith and everything that he did to help restore The Church of Jesus of Latter-day Saints. I knew that I wanted the girls to think of Joseph Smith, but I want them to know this scripture is also about them! President Nelson has enlisted the Youth in the Lord's Battalion to help gather scattered Israel. This is no small feat, but as this scripture teaches us, it is out of "small things" that will help them accomplish this great call.
I decided to use a beautiful sunrise in the designs. I hope as they look at the image, they will think of "the lovely morning" that Joseph Smith went into the grove of trees to pray. I hope it will also remind them to wake up each morning with a willing heart and mind and know that they are part of something bigger than themselves. Just like the sun rises each day, our Youth are ready to rise to the call given to them by our dear Prophet!
The ULTIMATE BUNDLE contains 4 packets in one!
Binder's Packet:
Get ready for 2021 with our Binder Essentials!
Included in this packet:
Editable Binder Covers and spine inserts - includes 4 colors for the covers
12 Month Calendar that is editable in free Adobe Reader

12 Month Calendar at a glance a quick glance page of all 12 months
2021 Teaching Schedule Page - Includes 2 pages: January-June and July-December
2021 Weekly Reading Schedule This page has the Doctrine and Covenants reading schedule that follows what they need to be reading at home. We have been asked to remind our classes each week what they need to read for the following week!
2021 Weekly Reading Schedule Bookmark This bookmark has the Doctrine and Covenants reading schedule in a more compact form for the young women to carry in their scriptures or hang on their bulletin boards at home.
3 Blank Notes Pages
Bulletin Board Packet:
Decorate your Young Women's room or an Event with our beautiful Bulletin Board Packet!
Included in this packet:
Two Poster Designs
with the 2021 Youth Theme in the following sizes:
4x6
5x7
8x10
8.5x11
11x14
11x17
16x20
24x36
Two Full Youth Theme Scripture Poster:
"Strive to Be":
"Strive to Be" Board Strips (about 7.5" wide)
5 "Strive to Be" Scripture Posters found in the Children and Youth manual in 3 sizes
Packet also includes
A banner in 2 sizes
8 circles to decorate your bulletin board. Includes 4" and 8" sizes
13 matching pattern scrapbook papers (8.5"x11")
IMPORTANT: We would have LOVED to have added the new Young Women Theme in this year's packet. Unfortunately, the Church is not giving permission to have it included, even it it was free. We know you have probably seen the Theme all over the internet with people selling them or giving them away. Please be aware that this is something that the Church has specifically asked us not to do. If you'd like to download them from the Church's website, you can do that by clicking here.
Young Women Events Packet:
Our Events Packet includes many things that you will need for a beautiful event!
This packet includes:
Banner in 2 sizes
3 Invitation designs that are editable in Adobe Reader
Editable Name Tents
2" circles that are perfect for cupcake toppers or stickers
13 matching pattern scrapbook papers (8.5x11)
Full Youth Theme Scripture in sizes 16x20 and 8.5x11
Two Poster Designs with the 2021 Youth Theme in the following sizes:

4x6
5x7
8x10
8.5x11
11x14
11x17
16x20
24x36
Young Women Birthday Packet:
Celebrate your Young Women on their birthdays with our birthday cards or tags and a small gift!
Our birthday packet includes:
4"x4" birthday cards in three designs
3" Circle tags in three designs - these are perfect attached to a ribbon and tied around a package or bag
Bookmarks with the Youth Theme scripture
2" Circles perfect for cupcake toppers, stickers, or magnets
IMPORTANT:
Please add [email protected] to your email contacts. You will receive 2 emails once you have finished your purchase. The first one will be a receipt, the second email will contain your download link. This download contains a PDF file that includes a zip folder link. The zip folder will need to be "unzipped" to access the files.
(We are having issues with Comcast emails being undeliverable. If you have a Comcast email, please use a different email or follow the instructions below to make a free account to download instantly. You must be logged in BEFORE ordering to download instantly.)
You can also sign up for a free membership for INSTANT DOWNLOAD. Make sure you are logged in when you order. Then click on "My Account" in the toolbar and click on "My Orders." You can download your purchases instantly!
Please save your PDF download on your computer where you can refer back to it often. The PDF download page contains the link you'll need to access all of the files. Do not download your PDF onto your phone or iPad if you are going to open the files on a computer - there is a 5 time download limit of the PDF. It will be easier for you if you download the PDF onto your computer. You can download the zip folder that is contained in the PDF download as many times as you need to. (This will make much more sense when you see the download!)
Email [email protected] if you have any problems getting your downloads.

THIS IS INCLUDED IN THE CALLING SUBSCRIPTION PLAN already - no need to purchase if you have a subscription. Save money and become a member! Click here for more info.